There are plenty of automotive WordPress theme . But our auto dealer WordPress theme is special one. Today, I would like to tell you why.
In our view, the use of a automotive website after purchasing professional wordpress theme should be as clear and pleasant as possible. That is why we took care of all the small things to provide the most convenient experience for both our customers and their visitors.
Theme settings
After the theme installation you are immediately get able to choose a type of demo website you want to use.


Once you have imported your chosen page you can start to modify the content according to your needs. Via Page Builder it is possible to change any texts or pictures of your page. None of coding skills is required.
In order to change the template style, you can use Theme Customizer and switch a color to the one of your brand. Customize a new font style as well as much more settings like Footer or Header.
BUY AUTOZONE WORDPRESS THEME NOW
Autodealer Settings
To manage your Auto business simply use the 'Auto' tab.
By clicking on 'All autos' you get a list of all cars that are added on your website.
Navigation through this section is intuitive and you can easily configure the autos. One of the killer features is possibility to add new tabs with a description and enable individual booking for the car. Assign some cars for sale and some for rent, depends on you. Set for them a flexible price (e.g. FROM minimum level TO maximum) or select a price on request. We have already implemented all the necessary settings, so you do not need to even bother.
In the 'Model' section you can edit information about car brands. Add new ones, change descriptions, add icons and images.
What is more, a list of cars for each brand is already on your site. It is highly effective for SEO optimization and save your time.
Using 'Body style' you can set up search filter that allows your visitors easily find a needed car by body type.
As for 'Equipment', there you can customize all addition parts for your vehicles.
Autos Taxonomies section provides features to make arrangements in list of your cars , its bodies and equipment.
Your visitors can comfortably make a comparison of auto models. Sometimes it is really very necessary, not to mention that useful and convenient. Or just add the cars to a favorite list to simply not to lose. After adding, the car will be displayed at the top of the page. Be sure, your customer will keep it in mind. All of these settings are available in 'Compare Page' section.

Next, there is general settings section. You can change a currency of your site, list style as well as many other options by a simple click.


Clicking on the 'Auto fields' tab, you can customize a necessary field or just turn off needless one. Moreover, it is possible to add a new custom field for any purpose.


Undeniable advantage of custom fields is that you can quickly convert the template for your needs. Business is growing? Not a problem at all. Simply customize your website for any other type such as renting a yacht, aircraft or helicopter. You have already got all the necessary features to do it.

Autodealer Mode
Buy our auto dealer wordpress theme and monetize your business .
Your visitors may post an ad about selling their vehicles on the website. The template provides the opportunity to do this even without registration. To do this, select the setting 'Allowing dealers to add cars without registration – yes'.
After that, an auto dealer gets be able to provide information about his car and load images through the 'Sell your car page'.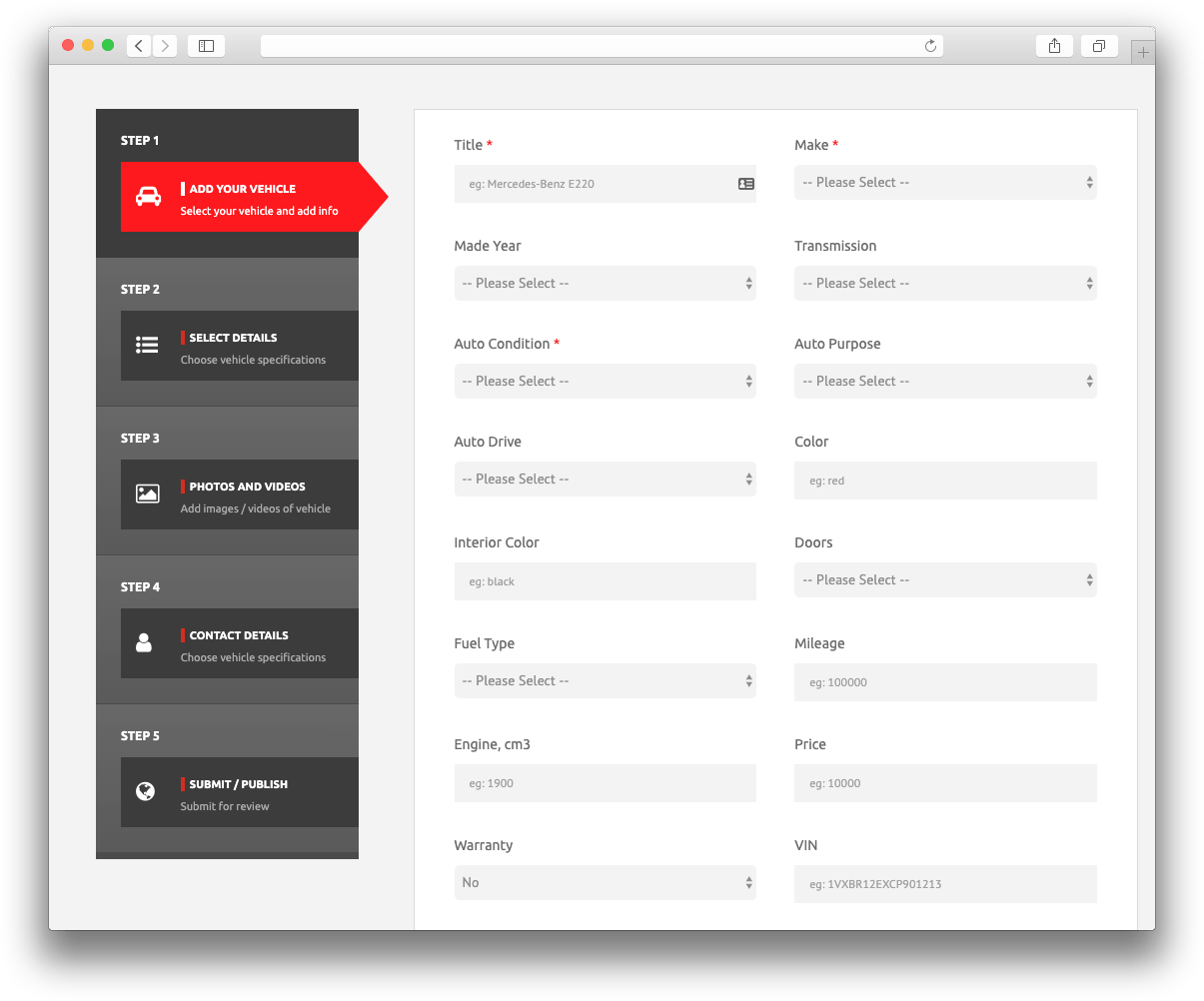 Administrator of the site receives messages about all new ads and takes a decision whether approve or refuse the post. Of course, you are able to allow adding ads without moderation.

If you want to monetize your site, you can create a subscription option and restrict the placement of ads. To do so, specify the subscription end date in the user's settings. When time has come the user receives a message that he needs to renew the subscription, or all of his ads will be disabled.
BUY AUTOZONE WORDPRESS THEME NOW
Auto Booking
You may set up a booking options for your rental services.
All the fields settings are flexible. Simply turn them on or off depending on your needs. Location and Date fields are not important? So, disable them. All in your hands.
Easily add or remove your Auto rental service locations.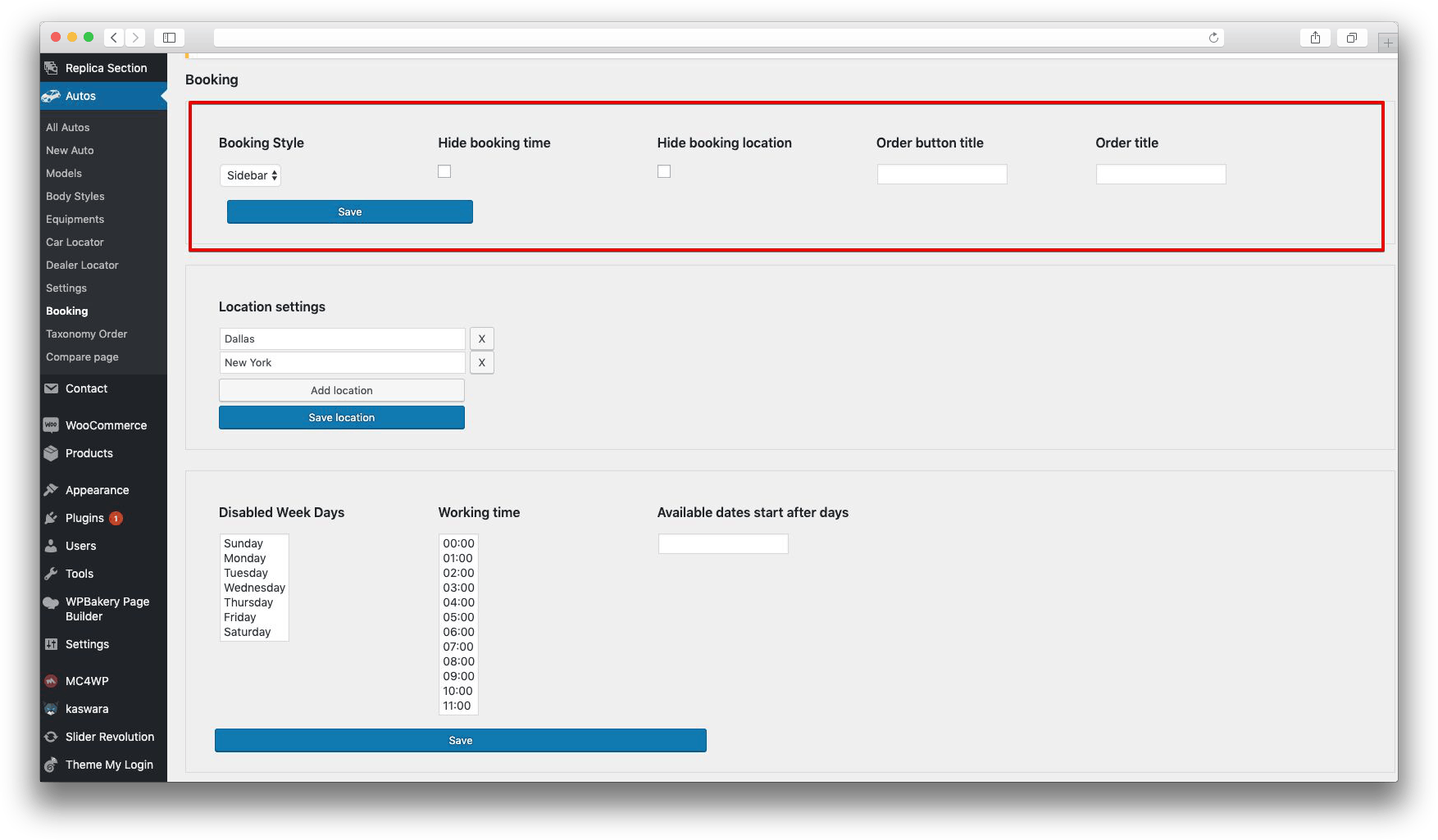 Set the operating time so that your customers will able to make their plans in advance and not be unpleasantly surprised when you are closed.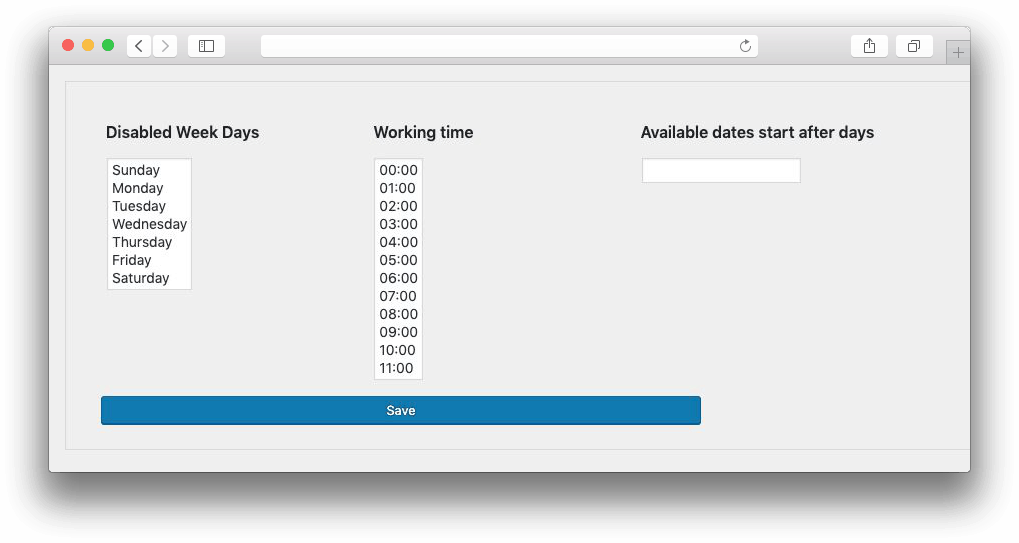 You can easily customize the ability for the customers to add an additional services or equipment at the order time. Specify a fixed price as well as the car rental per day price.
There is a flexible discount system that motivates your customers to order a car for a large number of days. For example, you can set a discount on the second day of the rental and your client will pay for the second day and next days only half of the original price. Or just make a discount for the whole period if the customer books a car for two days or more. Customization is very personalized. It means you have no restrictions.

All transactions are carried out with the WooCommerce which meant you can easily control them and set up the tax information required. It takes on a lot of your bothers. WooCommerce is supported by the most of payment systems like Paypal, Visa, MasterCard and many more.
We have developed the most effective and high-functional WordPress theme for Auto Dealers and Car Rental services. Easy to customize. Easy to use. We hope you will enjoy it as we do.